Current Projects
Last reviewed & updated in April 2023.
---
Product in R&D mode since 2020

Working on a consumer electronics product of my own making for anticipated release in 2023.

Consulting since 2017 (and previously from 2006 - 2011)

I've been programming & building with Apple technologies since 2002, Linux since 1998, web development since 1996, and have been using UNIX-based systems since 1995. Areas of particular interest to me are augmented reality (AR), hardware & software interaction, mapping, and photography. More on my services page.

Making, fabrication, and public art since 2018

I rent industrial shop space in inner Southeast Portland for the support of small contract jobs and digital making (e.g. 3D printing), electronics, retrocomputing, and fabrication services under the name Fusion Industries LLC. I've also created public art installations for the Portland Winter Light Festival in 2019 and 2020 and have done miscellaneous maker-y things like concept and run a booth at the Portland Mini Maker Faire. You can read about some of my inspirations in this line of work.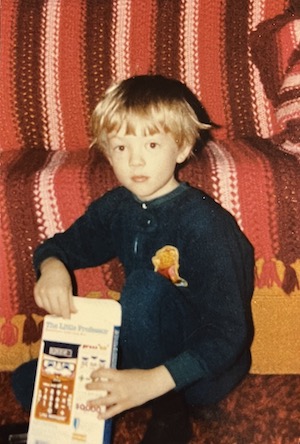 Retrocomputing since 2020

At the start of the pandemic, I acquired a 386 luggable which kicked off a latent interest in computing systems of the 1970s and 80s. I've since acquired way too many old computers, which I am in the process of restoring, using and learning from, and playing with. Hopefully someday I can figure out a space to show them off and let others play.

TI-99/4A (1981) - 2x, one in box
Commodore 64 (1982) - in box
TRS-80 Color Computer 2 (1983) - in box
TRS-80 Model 100 & 102 (1983 & 1986) - one in leather slipcase
Commodore 128 (1985) - in box with 1571 floppy in box
Mac Plus (1986) - 2x, one in padded carrying case
DB Spectrum+ (India's ZX Spectrum+, 1988) - in box, loan from Sam Grover
LCD-386 (Dolch PAC clone, 1989) - in canvas carrying case

And a few bridge machines to help connect the decades:

Power Macintosh 9500 (1995) - with internal Zip & external SCSI drives
AMD Athlon custom PC build (since 1998) - FreeBSD 13, 5.25" & 3.5" floppies, CD & DVD burners
Various PowerPC and Intel Mac laptops (2005-2013)

I've got a few interesting historic calculators, too, including an HP-15C and a TI-85.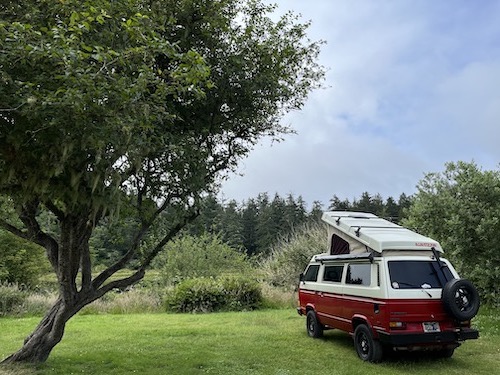 Volkswagen Vanagon camper vans since 2017

Restoring, rehabilitating, and maintaining these classic vehicles as main drivers and off-roading campers, as well as as a learning platform for general making, automotive, RV conversion, solar power, and other skills.

1986 Vanagon GL Syncro Weekender with rebuilt Subaru 2.5L
1985 Vanagon GL sunroof-turned-poptop with rebuilt VW 2.1L

Photography since 2009

I have been practicing photography, mostly focusing on wildlife until 2016 and, ongoing, on events-for-hire such as conferences. Mallorn Imagery is where I keep the wildlife photos and where I used to blog about photography. I also have some nice stuff at 500px. A good place to check out my conference work is the OpenStreetMap US conferences 2013 in San Francisco, 2017 in Boulder, and 2018 in Detroit.

Angel investor since 2018

Advisor to and investor in several startups.
Notable past projects
App Camp For Girls
2017 - 2020
One of five (volunteer) board members before winding down the organization after seven years. This nonprofit's mission was to inspire and empower girls, transgender, and gender-noncomforming youth to pursue careers in technology.
2010 - 2017
I was one of the first dozen or so folks at Mapbox and led the early mobile efforts, including writing the first version of the iOS tools, originating the MBTiles file format, helping build the first versions of Mapbox GL, charting company mobile strategy, doing public speaking & outreach, and, as the longest-running remote team member, unofficially helping shepherd remote employee culture. I left after helping the company grow to about 175 people. Today the company is valued at one billion dollars.
Code Sorcery Workshop
2006 - 2011
Prior to joining Mapbox full-time, I ran a solo consultancy for about five years, building solutions for customers worldwide in the areas of Mac and iOS development (including early iOS work on the first Starbucks and Zipcar apps), web development (primarily in Drupal and PHP), and systems administration. I also created and sold two popular Mac desktop applications, Pukka and Meerkat. I've preserved the now-dormant website due to the number of technical blog posts, forum discussions, and other random bits of possible interest.
EchoDitto
2004 - 2006
When I lived in DC, I was an early employee at a consulting firm which came from the ashes of Howard Dean's failed 2004 presidential bid. I worked closely as the systems administrator alongside amazing folks like Nicco Mele and Garrett Graff and for amazing clients like Barack Obama and Rosie O'Donnell. It was what I like to call my first "big time" job and really opened the door for me to learn so much, meet and work with so many interesting and talented people, and get into some amazing early technology.
Voxel.net
1997 - 2001
If you were doing anything with open source software in the late 90's, you might recognize Voxel.net web hosting as an early supporter with donated software mirrors and other efforts. I was a cofounder and the first CTO there and also wrote Ticketsmith, the first version of what went on to become the Ubersmith hosting management platform.
TractorLizard
2009 - 🚜🦎
In 2009 while at the South by Southwest Interactive festival, my friends Mike, Brian, and I became disillusioned with the buzzwordy and hollow feel to many of the proposed businesses and ideas that we were encountering. TractorLizard was our parody of it all, complete with intentional typos, broken links, an automatic business plan generator, and even some founder videos in which we ad-libbed interview answers (of which I'm particularly proud).
Blogging
2001 - present
I've been blogging in one form or another for a couple decades, and before that, I basically made a wiki-like site that I've since lost. If I had any foresight about it, I would have named the software, published it, and pulled down that sweet, sweet wiki lucre that Ward does.
justinmiller.io (2013 - present) I'm here now.

codesorcery.net (2006 - 2012) Technical and business blog while I ran my own company.

LiveJournal (2001 - 2010) I made this friends-only out of sheer embarrassment some years back. Early days of work, relationships, and even a band, mostly while living in upstate New York and Virginia.

travelingsong.com (2008 - 2010, now defunct) Travels and life in Europe and the US between leaving DC and settling in Portland.

allthegooddomainsweretaken.com (2005 - 2007, now here) My first real blog intended for the public, while living in Washington, DC.

ourvineyardwedding.com (2004 - 2006) Where my late wife Michelle and I blogged for friends and family leading up to our wedding.
---
This page is also available at
/now
, as inspired by
Derek Sivers
.