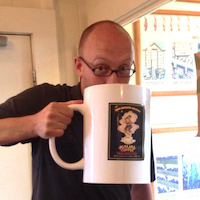 Welcome! My name is Justin Miller and this is my personal website. I live in Portland, Oregon, USA with my amazing girlfriend and my crazy dog. I mostly do iOS, Mac, and Unix software development for internet-related technologies, as well as strategy and speaking. Most recently, I grew the mobile team at Mapbox from nothing and led engineering on many of the company's early and mid-stage technical efforts. I am a widower and, as a result, a pancreatic cancer advocate.
I've been working full-time in the field since the late 90s, when I bought myself (well, on credit!) my first modern computer at the age of 21, taught myself systems and development, co-founded a few startups, and eventually dropped out of engineering school to spend more time in a self-directed environment.
I grew up in an economically depressed coal mining region in Appalachia, the grandson of farmers and steel workers, in a hard-working family, which taught me many lessons and for which I am eternally grateful. I am the first in my family to even come close to finishing college, and with a lot of hard work plus trial and error, I have been able to achieve a comfortable life where I am lucky enough to essentially have my pick of interesting work. I've become a lover of big cities, diverse culture, and wandering the wider world, but in many ways I'm still a small-town country boy at heart.
I mention all of this to shine a light on my perspective and because it's been a big personal challenge for me to navigate the change from work as purely economic to work as creative fulfillment and on to, hopefully, work as a way to make an impact, something I hope to do with this site.
Along the way, I've come to realize that although I've got much to be proud of, I've lived on the easy setting, so I try to remember that and to pay it forward when I can, whether with time, money, or just a helpful hand.
This site is my "digital hub" (to co-opt a term), a place to collect thoughts, media, history, and other digital miscellany. I hope that you enjoy it.