Last night, we unfortunately had to say goodbye to our sweet pup Ronny.
As it turns out, what we've been dealing with since March was lymphoma. While he had a great rebound and near-total recovery, it was in fact remission and this week he declined very rapidly and had a whole host of complications hit him at once. We headed into the ER yesterday afternoon and made the decision to put him to sleep after the vets were able to get a handle and prognosis on what was going on.
While I'll be the first to admit that I wasn't a dog person before, and that, a lot of the time, Ronny was a giant pain in my ass (in the best possible way), he was such a loving, smart, eager companion, up for any adventure, and he totally won me over.
He'd been to the tops of many mountains, van trips to California, showshoeing in Oregon and all the way in Montana, he spent an hour in Canada once, and was even in the ICU at Michelle's side when she passed. Ronny was, from the start, "Michelle's dog", and even the last activity she did while healthy was a local run with him at her side. But life moved on and I, and later Jessica, adjusted to giving him the life and adventures that he deserved.
Everyone probably feels like their pets were the best, the most unique, the smartest, the most loving, the most interesting. I certainly felt that way about Ronny.
This is the first time for me since 2001 without a pet at home, so it'll take a while to get used to no door greets, no mail delivery or potential yard intruder alerts, no 24/7 squirrel surveillance.
So long, friend. 💜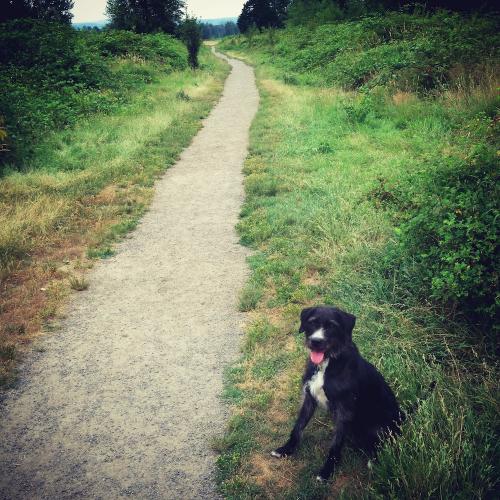 ---